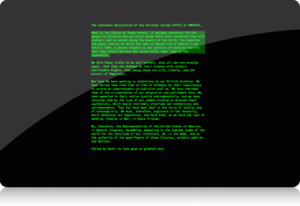 Als je even ongestoord een potje wilt bloggen of een belangrijk stuk, liefdesbrief of huwelijksaanzoek wilt schrijven is WriteRoom een echte aanrader. Het is een simpele texteditor voor de Mac die al je applicaties naar de achtergrond verwijst. Het is just you and je tekst. Goed voor je focus, geen afleiding, Facebook of Twitter. Het is een eenvoudige applicatie waar je 8 euro voor moet lappen dus ik kan me voorstellen dat mensen kiezen voor de gratis alternatieven als FocusWriter en Think. Ze zien er iets minder gelikt uit maar zijn prima te doen.
Trouwens, om ongestoord te kunnen bloggen kan je in WordPress voor de fullscreen modus kiezen, wat bijna hetzelfde, afleidingsvrije, effect oplevert. Het verschil met WriteRoom is dat je niet de achtergrondkleur kan bepalen.
Zie een voorbeeld van de Full Screen modus van WordPress hieronder.